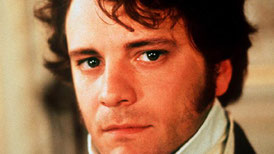 Mr. Darcy
  So let me start by clarifying that on screen Colin Firth is, and always will be, my Mr. Darcy. No contest, no debate, nothing. Feel free to leave comments if you have an argument against this. I can't see how you could look into those eyes and have one, but hey, I'm willing to read them before dismissing you as crazy :)
  Obviously this infatuation goes back to my first reading of Pride and Prejudice. I honestly don't remember when that was, but I was a young teenager and this was my introduction to reading romance. Because, yes, it's romance. It's soooo romance. And that's part of the beauty of Jane Austen. There's no sex, hell, there's not even any kissing. (I remember a friend of mine screaming at the TV as we watched the newer P&P. "There is no kissing in Jane Austen!" she shouted during the last scene.) And yet, it is toe-curling, brow-mopping, drop-me-to-my-knees-and-beg hot. Romance. At it's best.
  Okay. Back to Darcy himself. I'm sure I don't have to explain why he's so sexy. It goes beyond explanation. He simply is. Mr. Darcy is the man we secretly want to roll up on his horse one day. We'll give him a hard time, make him work for it, then fall into his arms and let him sweep us away. Oh, and while we're making it hard on him, we'll try not drool as he walks slowly out of the pond in his see-through white shirt (hell, yeah!).
  We women, we don't faint and swoon anymore. We walk up and grab by the collar and kiss fiercely. We fight for what we want. We hold our heads high in confidence and pride, rather than ducking them demurely. We don't wait for knights on horses anymore. But that doesn't change that little place inside us that longs for that Georgian era hero with his high collars, richly furnished estate, and sexy overt glances.
  Bottom line: I want to be whisked off to Pemberley!
  Infatuation level: 9
(Like opposite attract stories? Check out Candace Gleason and Jack Morrison in my new novel "Don't Let Him Go.")
Most Prideful
At the first ball. "She is tolerable..."
Sweetest
Fixing Lydia's problem, for sure.
Hottest
Book: When he catches up to Lizzie at Pemberley when she visits with her aunt and uncle.
Movie: Pretty sure we all know the answer to that - wet, white shirt...