Jim Halpert
The 'every man' from the office is funny, smart, loyal, and geek-sexy.
My obsession with Jim began on the very first episode of The Office. It is apparent right away that we, the audience, are seeing the other characters through Jim's frustrated, amused, and often appalled, viewpoint. It creates a kinship with him.
Then there's his clear and apparent love for Pam, worn on his sleeve like a bright yellow ribbon tied on and cutting off his circulation. It is so.... awwwww!
But while it was the patient, and often useless, pursuit of Pam that had me fall for him initially, it was the deep, gut-wrenching jealousy of Pam during season three that really amped up Jim's sexy.
Ultimately though, it was the way Jim treated Pam, every day, beginning to end, as if she were the light in his life, the glow in an otherwise dark and ridiculous world, the most perfect, and at the same time not perfect, woman on the planet, that makes Jim truly worthy of a fiction infatuation.
AND THEN... Did you see Away We Go? If not, and you are a Jim fan, go see it right now! 
Infatuation level: 8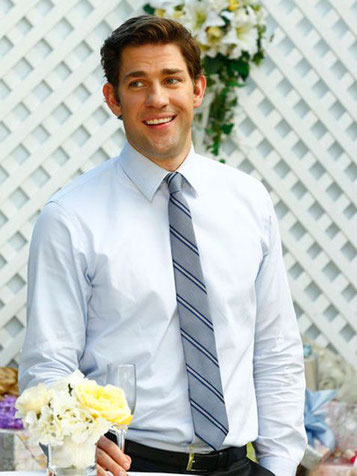 Funniest
So many to choose from. But I think the winner is when he came in dressed as Dwight and pretended to be him all day. "Bears, Beets, Battlestar Galactica."
Hottest
The video letter at the end of the series. OMG!!!