Hi Kay, thanks for having me. My fiction infatuation began with Gavin Shaughnessy from the moment he appeared.
My heros are usually the characters that pop into my head demanding to have their story told.  But Gavin Shaughnessy was different.  When Synn, the heroine of A Magic Redemption, danced through my mind, tapping her tiny foot and demanding that I write her story. Now! Gavin took flight right behind her, he's a gryphon shapeshifter, in support of her demands.
What choice did I have?
Gavin is the publican (manger) for his family's pub in Ballycotton, County of Cork, Ireland. He loves his job, the customers and the salty sea air, jagged cliffs of Ireland's coast. While his two sisters, Hannah and Brandy got the wanderlust from their mother and ventured across the pond to ivy league colleges, Gavin was satisfied to stay in Ireland and learn the family business.  That's where he met Synn. She was in the company of the Demon Overlord of the Western Hemisphere, Bruce, and his wife, Angie, along with a few other magical creatures.
Synn seemed uncomfortable so he offered to show her around. Strangely enough she ended up in the kitchen helping him load dishes in the dishwasher, where Brandy discovered them and threw a hissy fit. He was aware of Synn's sorted past which included a contract hit on his sister, Brandy. It failed in part due to Synn's refusal to complete the mission and seeking protection from the Overlord in exchange for valuable information she had. 
I should tell you that Synn was kidnapped as a pre-teen for her magical abilities and her family was brutally murdered in front of her.  Baltizar, the creature that abducted her forced her to become a warrior assassin as he waited for her magic to mature.  But Gavin didn't hold any of that against her. She was the one as far as he was concerned.
Gavin fell in love with her and they began a relationship. But when she earned her freedom, he had to let her go to experience life and discover who she was without the mind-control of her abductor. Remaining her friend seemed the best option, until she inadvertently dragged him into her terrifying dreams in which Baltizar is back to exact revenge.  Now he along with his family stand ready to defend her and insist she take steps to protect herself.
Here's an example from between the pages of A Magic Redemption.
       After a wonderful afternoon excursion exploring Blarney Castle, they headed back to Ballycotton.
The road to her cottage took them by the pub. He didn't want to spoil a great day by stopping by Shaughnessy's. But he had a nagging feeling that was exactly what he was supposed to do. Prior experience taught him nothing but trouble would come if he ignored his gut. "Mind if we stop by the pub on the way home. Storm can stay in the truck for a few minutes. I want to make sure—"
"Everything is all right?"
"Of course it's all right. I've taken time off before." Gavin bristled. "I had a life before—" He stopped mid-sentence. No way was he going to spoil this day.
She shifted in her seat to face him. "Before what? Me? Before your sister married an assassin? Or Brandy became engaged to a vampire? Before your world came crashing down amid demons, vampires, witches, and world ending shit?" She paused, closed her eyes, and leaned her head against the seat again. "I didn't mean that. I've been on edge since the dream—nightmare—premonition. Call it what you want. Today was a nice reprieve. But when we hit the edge of town—what'd you call 'em—" she tapped her temple. "My spidey senses went off." She shivered.
"I have to admit the dreams you have been so kind to share are disconcerting. If we were in danger, Bruce or Tristian would have contacted one of us. They aren't going to leave you hanging in the wind. Neither will I."
He turned on the street behind the pub. The parking lot was full to running over. Weaving through the cars without finding a space, he pulled back onto the road. After circling the block, he parked down the street and cut the engine. "Stay put for a sec." Gavin stepped out of the truck and surveyed the area. Nothing seemed out of place or unusual.
About A Magic Redemption:
Synn, a demon, carries extraordinary magic and power, but there is more within her than she dreams. Kidnapped as a child, her captors murdered her family and forced her into training as a warrior assassin. When an assignment goes horribly wrong, she finds herself at the mercy of the friends and family of her intended target.  Offering valuable information in exchange for protection, she gains her freedom, but it is not without its challenges.
Gavin Shaughnessy is the publican at his family's Irish pub.  He is certain Synn is meant to be his and isn't bothered by her past.  He must find a way to convince her, their future together is stronger than the dark memories that haunt her dreams.
When her past comes calling for revenge, will their love survive the raging inferno she brings down upon them? Or will the searing path of destruction destroy all they hold dear?  
Buy links: Amazon,   Amazon UK, Amazon AU, Amazon CA,   itunes, The Wild Rose Press, Barnes and Noble  Wal-mart.com
Book Trailer for A Demon's Witch Series https://youtu.be/lELj0amtkk8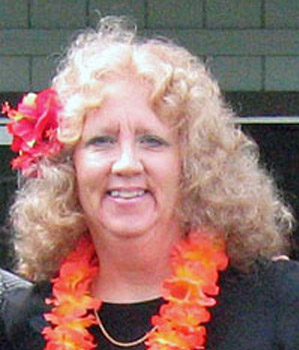 About the Author:
Tena Stetler is a best-selling author of award winning paranormal romance. She has an over-active imagination, which led to writing her first vampire romance as a tween to the chagrin of her mother and delight of her friends. After many years as a paralegal, then an IT Manager, she decided to live out her dream of pursuing a publishing career.
With the Rocky Mountains outside her window, she sits at her computer surrounded by a wide array of witches, shapeshifters, demons, faeries, and gryphons, with a Navy SEAL or two mixed in telling their tales. Her books tell stories of magical kick-ass women and mystical alpha males that dare to love them. Travel, adventure and a bit of mystery flourish in her books along with a few companion animals to round out the tales.
Colorado is home; shared with her husband of many moons, a brilliant Chow Chow, a spoiled parrot and a forty-five-year-old box turtle. When she's not writing, her time is spent kayaking, camping, hiking, biking  or just relaxing in the great Colorado outdoors. During the winter you can find her curled up in front of a crackling fire with a good book, a mug of hot chocolate and a big bowl of popcorn.
Author Links:
Contact Information:
Website: http://www.tenastetler.com
Authors' Secret's Blog - http://www.tenastetler.com/category/authors-secrets-blog/
My Say What Blog - http://www.tenastetler.com/category/my-say-what-blog/
Facebook Page: www.facebook.com/tenastetler.author
Twitter Page: www.twitter.com/TenaStetler     
Goodreads: https://www.goodreads.com/author/show/14187532.Tena_Stetler
The Wild Rose Press: http://catalog.thewildrosepress.com/1264_tena-stetler
Amazon:  www.amazon.com/author/tenastetler
Newsletter: http://www.tenastetler.com/newsletter-signup/
Pinterest:  https://www.pinterest.com/tenastetler
Tribber - http://triberr.com/TenaStetler
Bookbub: https://www.bookbub.com/authors/tena-stetler
Instagram: https://www.instagram.com/tenastetler/
BookGorilla - https://www.bookgorilla.com/author/B014E0PEPM/tena-stetler